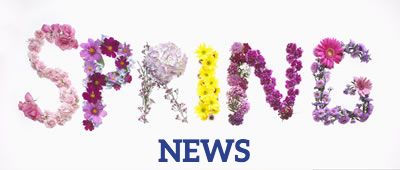 Spring News
"I am going to try to pay attention to the spring. I am going to look around at all the flowers, and look up at the hectic trees.
I am going to close my eyes and listen."
~Anne Lamott
3 for 99 is dedicated to raising funds to help find a cure for our children who are afflicted with three devastating children's diseases. Each $99 contribution brings us closer to a finding cures for these diseases:
Fredreich's Ataxia is a debilitating, life-shortening, degenerative neuro-muscular disorder. The symptoms usually begin between the ages of 5 and 18 years – about one in 50,000 Americans have Friedreich's ataxia.
Hemophilia is a genetic bleeding disorder that prevents the blood from clotting normally. The primary symptom is uncontrolled, often spontaneous bleeding in different areas of the body. There is currently no cure for hemophilia.
Duchenne Muscular Dystrophy is a deadly muscle disease in children, mostly boys. Historically, most boys who have it do not survive beyond their mid-twenties, and those that do will be using a wheelchair by age 12 and experience social isolation.
My sincere thanks to you,
Joe DeBilio
Founder, 3 for 99
Opportunities to Get Involved with our 3 Charities
The Friedreich's Ataxia Research Alliance (FARA) has robust grassroots and volunteer programs
Ride Ataxia is a nationwide program of bike rides that allows people with disabilities to ride and and raise funds.
Team Fara is made up of people around the globe who participate in endurance events on behalf of the FARA with the goal of raising awareness and funds for FA research.
#StriveForOneFive is FARA's campaign to participate in or hold a fundraising event
More Ways to Help
The National Hemophilia Foundation (NHFF) has volunteer opportunities available in their national and local offices. Find out more here.
Cure Duchenne has fundraising events all over the country that you can attend and/or sponsor. You can also hold your own. Click here to find out how.