Nathan Mermilliod 5 Years Later!
It's been 5 years since 3 for 99 Charity was started by Joe Debilio in an effort to help find a cure for 3 life-shortening children's diseases.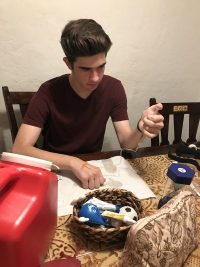 Nathan has recently been honored with a great distinction – the National Hemophilia Foundation's Teen Impact Award for Excellence in Advocacy. The award was based on his dedication to using his performance and presentation talents to spread awareness and advocate for people with hemophilia. This includes his many years of school presentations, his participation in Hemophilia the Musical in NYC last year, and his recent speech on hemophilia for the annual Rotary Club speech contest, for which he was an award-winning finalist and was invited to speak at their district conference.
Nathan is very committed to his advocacy work and his dedication to his hemophilia education and community.